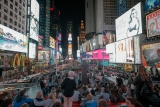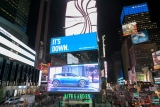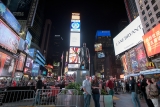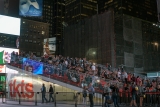 Overview
| | |
| --- | --- |
| Scenery | |
| Mood | |
| Access | Easy (Walk, Train, Bus, Taxi) |
| Safety | No problem |
Visit date September 2016 / Updated date March 2016
Impressions
It is the heart of New York running Metro 24 hours makes here kept this area always busy with people.
It is more like overlooking neon glittering vibrant center of the world than enjoying just a night view. The picture was taken at 11PM on weekday, but still there are full of people around.
Note
Although here is not the area you have to worry your safety because there are many police officers around, you still need to pay much attention to pickpockets. It is too many people to enjoy the scenery.
Equipment used
Nikon D810
Carl Zeiss Distagon T* 3.5/18
Carl Zeiss Distagon T* 2.8/25
Carl Zeiss Planar T* 1.4/50
Location

Address: 1564 Broadway、New York, NY 10036, U.S.A.
Other Night Views in NewYork