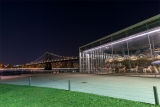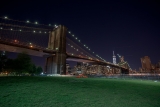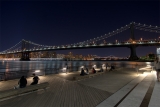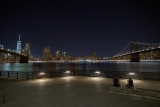 Overview
| | |
| --- | --- |
| Scenery | |
| Mood | |
| Access | Easy (Walk, Train, Bus, Taxi) |
| Safety | No problem |
Visit date September 2015 / Updated date March 2016
Impressions
The vintage carousel was created in 1922 in Philadelphia. After then it has restored by Jane restarted to be used in 2011.
The carousel is surrounded by glass walls which protect them from rain and wind and keep their beauty. It costs only USD2 for even adults. I have tried once of course, it was cool even more with the scenery around there. Please note they do not open for night.
Also there is a boardwalk in front of Jane's carousel. There are benches too, it shows superior atmosphere around the carousel. You can find many people in New York loving to be here for chatting at night because of their good atmosphere.
Equipment used
Nikon D810
Carl Zeiss Distagon T* 3.5/18
Carl Zeiss Distagon T* 2.8/25
Carl Zeiss Planar T* 1.4/50
Location

Address: Dock St、Brooklyn, NY 11201, U.S.A.
Other Night Views in NewYork