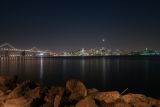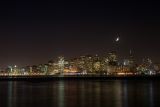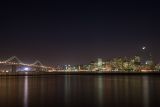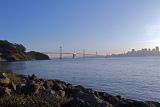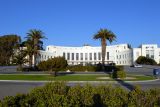 Overview
| | |
| --- | --- |
| Scenery | |
| Mood | |
| Access | Normal (Car, Taxi) |
| Safety | Please be late-night visit is avoided. |
Visit date October 2006 / Updated date March 2016
Impressions
Between the bridge connecting San Francisco and Oakland, there is an island called "Treasure Island." There are no sightseeing facilities, and just a large parking lot.
You can view the skyscrapers of San Francisco, one of the views that represents the city. Since this is a relatively bright place with street lights, it felt like a safe place unless you're visiting at a late time.
Note
The Bay Bridge has a double-deck; the top is San Francisco bound, and the bottom deck is Oakland bound.
Equipment used
Nikon D200
Ai AF Nikkor 20mm f/2.8D
Ai AF Nikkor 50mm f/1.4D
Location

Address: 95-107 Avenue of the Palms, San Francisco, CA 94130, USA
Other Night Views in San Francisco